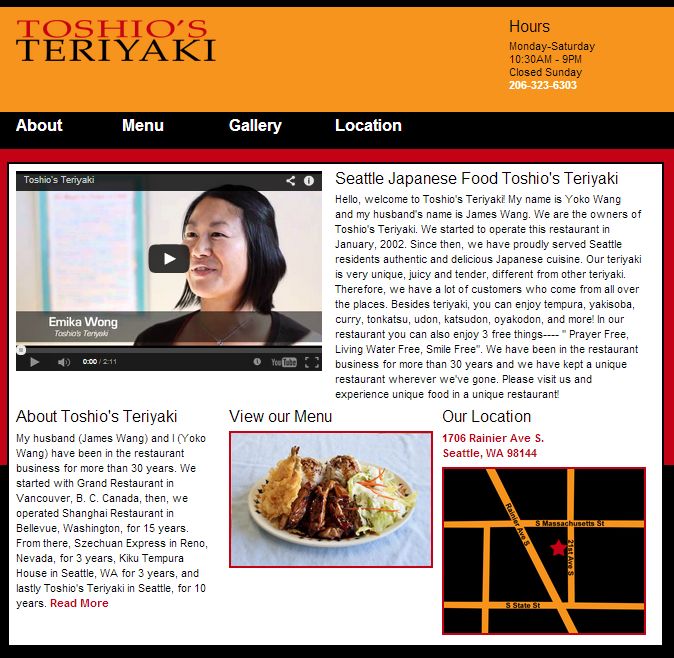 Role
Front-End Web Developer
The Client
Toshio's Teriyaki is a Japanese restaurant that serves the most delicious teriyaki in Seattle. They have been in business since 2002 and have a dedicated following in the Rainier Ave area of Seattle. They proudly serve authentic and delicious Japanese cuisine where their customers would travel to have their juicy and tender teriyaki.
The Problem
Toshio's had a static website that was not responsive and had problems with their UI. Toshio's also wanted to update their menu prices and have a design that would improve their brand.
The Solution
I analyzed and redesigned their UI to improve their information hierarchy to improve user usability. I also redesigned their visual design while implementing responsive design to improve their branding and make their website accessible to various devices increasing their website usage.
Other features I added were SEO strategies to increase their web visibility to the 1st page of Google's web search for "Seattle Teriyaki" and redesigned their information architecture to improve user navigation.
This website inlcudes:
Web Responsive
SEO strategies
UI/UX design
Client Reviews
"David is a very creative person. He respected my ideas and at the same time put his refreshing website friendly ideas to it. In the process of completing the website, I had countless communications with him. He is very attentive, patient, and polite. I felt good all through this process.

I wanted more mobile friendly website and I requested quite complicated changes. David handled it very professionally and is a very skilled website designer developer. I will recommend him to anyone who is looking for a very reliable, skillful, and creative website designer developer.

Owner of Toshio's Teriyaki
Yoko Wang"

View Process
View Protosite